INTEREST RATES RISING WORLDWIDE
This from the Meltdown people: Japan is about to
raise its interest rates
, following the
Europeans
... I have no idea how serious this stuff is...
OCEANS GET SICKER
Wired
has it all, courtesy of
The Fall of Humanity
and
Out of the Mountains
...
DATA MINING WON'T STOP TERRORISM
Just as
torture won't provide the government with real information
, data mining won't
stop terrorism
...
LA TIMES FINALLY COVERS OIL SPILL
Show's over, folks, you can all go home now
... the Times article claims that "At least 20,000 gallons of crude oil have spilled from a corroded pipeline near Prudhoe Bay in northern Alaska..." whereas the news in Anchorage is that whistleblower Chuck Hamel is saying the spillage is closer to
798,000 gallons
...Notice a discrepancy? The LA Times didn't, though it did quote Chuck Hamel.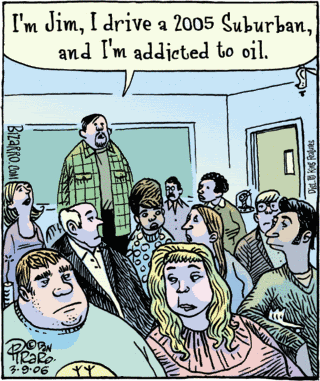 Today's relevant comic, thanks to The Seattle P-I and Bizarro...