OIL SPILL IN ALASKA: SHUTTING OFF BOTH OIL AND MEDIA SPIGOTS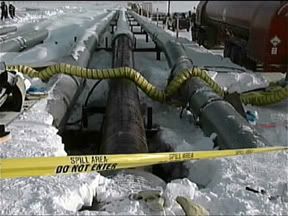 (from the website of KTVA in Anchorage)

It's worthy of note that this barely-covered story only popped up in the blogosphere around now. Many of the headlines suggest that the quantity of spilled oil is "unknown"... the Sierra Club has more complete news, apparently, than any of the "mainstream" media on this one. The story can't be found in any of the major newspapers, though the Anchorage Daily News imagines this spill to be "the sixth-largest oil spill ever on the North Slope, and the size is likely to increase once cleanup workers fully assess the extent of the spill." The story did make it onto ABC News, however. This is what Common Dreams found... further discussion can be found on the Daily Kos... and that's what you find on a story that was available last Thursday. Amazing. I guess the powers-that-blab don't want to tell you about oil spills amidst a rising panic about "peak oil" and all that.